Why are my gums receding?
Gum recession or gingival recession occurs when the gum tissues peel back or recede from their original position around affected teeth. This makes the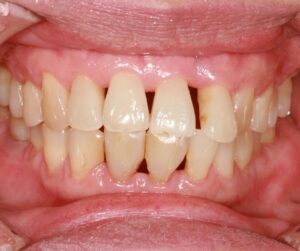 gum position itself lower, leaving roots of teeth exposed. The condition is more painful than it sounds. There are numerous causes for gum recession and recognizing the exact cause is important for identifying the right course of treatment.
What are the common reasons for gum recession?
Aggressive oral hygiene routine
It is important to be careful and enthusiastic about your oral health, but there is something as being too enthusiastic. If you are being hard on yourself or overdoing things, you could be paving the way for adverse effects, including receding gum line. Brushing should not become teeth scrubbing as per the Journal of Periodontology Online. Always use a toothbrush with soft bristles. While it is important to clean your teeth thoroughly, you should not have to experience any pain.
Hereditary
Your gums, like the rest of your physical attributes, have genetic characteristics. You are at a high risk of receding gums if any or both your parents complained of it. Research states that genetics are the primary cause for 30% receding gum cases, even after maintaining great oral health.
Bruxism or teeth grinding
Teeth grinding can be a dangerous habit and result in numerous oral and physical health issues. It can cause morning headaches, TMJ disorder and receding gums among several other maladies. You should consult your dentist for mouth guards and other treatment options if you suffer from bruxism.
Gum tissue trauma
Your gum tissues may fail to heal properly after undergoing a severe traumatic injury. This may cause receding gums.
Poor dental care
Oral hygiene involves proper brushing, routine flossing, and using a mouthwash only when necessary. Not following these steps can result in poor dental hygiene. This can further lead to plaque build-up and tartar. If you do not have your teeth professionally cleaned after build-up of tartar or calculus, it may result in gingival recession.
Hormonal changes in women
Women experience fluctuations in their hormone levels several times during their lifetime. These hormonal fluctuations can leave the gums at a high risk of diseases and recession.
Tobacco use
People who use tobacco products develop a sticky plaque like substance on their teeth. This is tough to remove and can place the gums at a high risk of gingival recession.
Teeth clenching
A tremendous amount of pressure is applied on gum muscles and nerve endings when you clench your teeth, which can result in the gums receding.
Misaligned bite or crooked teeth
Some teeth experience more pressure than others while chewing and biting when all your teeth are not aligned. This uneven pressure distribution can result in receding gums.
 Lip or tongue piercing
Gum tissues get irritated with jewelry, which can steadily wear them out. This is one of the reasons of receding gums.
How to deal with receding gums?
Gum recession is painful at best and can result in several other oral health complications. It is important that you consult with an experienced dentist at the earliest sign of gingival recession. Call Sunshine Smiles Dentistry at +1 (770) 998-8116 or contact us online to book an appointment today. Sunshine Smiles Dentistry is located in Roswell, Georgia close to Marietta, Canton, Johns Creek, Sandy Springs and neighboring communities.