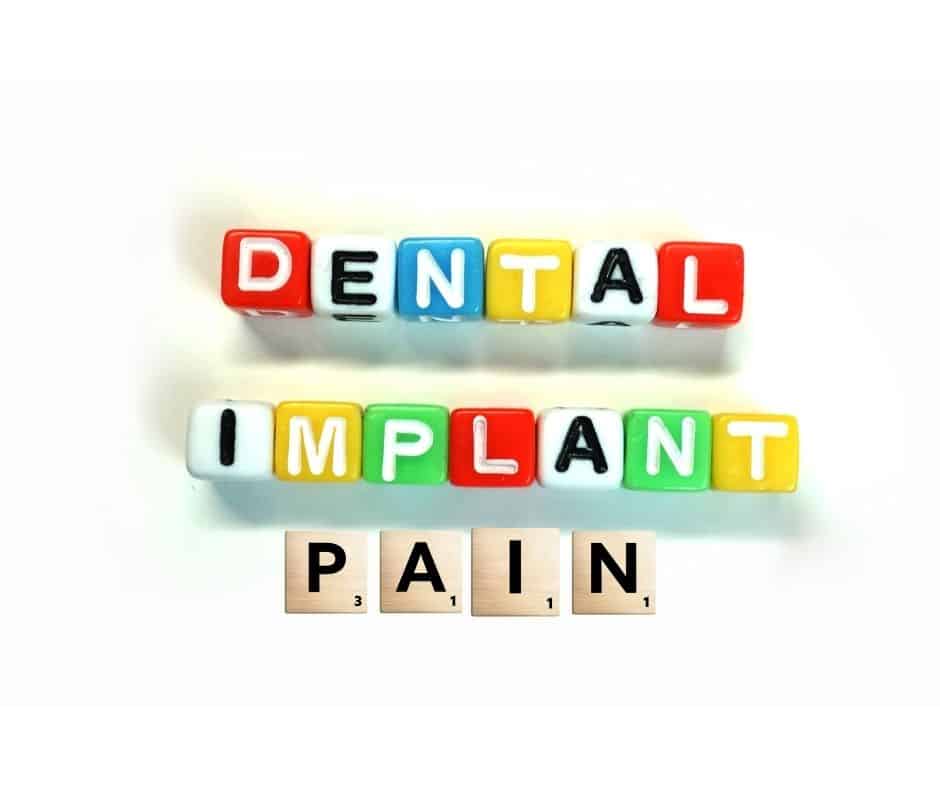 Most people do not feel dental implant pain. Unlike dentures and bridges, your dentist surgically places dental implants in your mouth. The process calls for them to drill into the jawbone and cut into the gums. This might conjure prospects of pain and discomfort in the patients. But the fact is that most patients do not feel any pain as the local anesthetic takes effect.  
Dentists perform the implant procedure with great precision, reducing the pain and trauma to a bare minimum. After returning home from the procedure, you can manage the post-operative implant pain with medications prescribed by your oral surgeon or dentist.
Is Pain Normal after a Dental Implant Surgery?
Dentists use the latest technology and techniques in surgery to make sure the procedure is pain-free and minimally-invasive. However, a dental implant procedure still involves major surgery to drill and create incisions in the jaws and gums to place your implant.
Some minor discomfort and pain are par for the course after the effects of anesthesia and sedation wear off. Some amount of pain, swelling, inflammation, and bruising are likely in the first 24 hours immediately after the oral surgery.
You must adhere to the instructions of your dentist regarding your dietary restrictions, pain medications, and daily activities so that your mouth has sufficient time to heal properly.
How Long Does the Pain Continue after a Dental Implant Surgery?
In most cases, the pain and discomfort reach their peak within 3-5 days after your dental implant procedure, after which it begins to subside at a relatively fast pace. Coming to the end of your first week after your oral surgery, you should not be feeling much pain or discomfort.
Other related symptoms like swelling, inflammation, and bruising usually begin to subside a great deal by this time. Based on your healing, your mouth should start to feel normal in about 1-2 weeks after your dental implant procedure. By this time, you should be free of pain and swelling, and ready to resume your normal daily activities.
What Should I Do if the Pain Does Not Subside Even Two Weeks After My Surgery?
Most of the patients undergoing dental implant surgeries can expect to heal within 2 weeks of the procedure. Sometimes it might take another 3-6 months for your dental implant fuses with your jaw bone completely. Meanwhile, you must monitor any signs of pain and discomfort.
If you feel serious pain and discomfort persist beyond two weeks after your surgery, you must visit your dentist for an oral examination to ascertain the cause.
Sometimes, an infection of or around the dental implant site can be the reason behind the continuing pain and discomfort. Your dentist can clean and disinfect the site and prescribe antibiotics that can help heal the infection and save the dental implant.
In rare cases rejection of the dental implant by your body can also cause persistent pain after surgery. One of the reasons for this bodily rejection could be an undiagnosed metal allergy. This can thwart proper healing and cause pain and discomfort.
Safe and Predictable Dental Implant Treatment in Roswell, GA
If you are contemplating dental implant surgery, you should contact the Roswell dentist at Sunshine Smiles Dentistry to find out more about dental implant pain and recovery. We are here to answer any questions or apprehensions you might have regarding the dental implant procedure and its aftercare. Call or schedule an online appointment today!