Dental Crowns
Dr. Suvidha Sachdeva of Sunshine Smiles Dentistry, Roswell GA, provides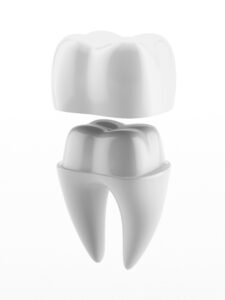 state of the art dental crown solutions. If one or more of your teeth have suffered significant damage due to decay, cracks or chips, a crown may be an ideal restoration for you.
Compassionate and caring cosmetic dentist Dr. Sachdeva will ensure that the crown reinforces your compromised tooth structure and at the same time restores your whole and natural smile. She will customize the crown in terms of its shape, color, size and texture to seamlessly blend in with your natural smile.
Consultation and Diagnosis
During your initial oral health exam, Dr. Sachdeva will look for signs of infection or decay. Apart from visual examination, she may also take a few x-rays to assess the tooth roots and bone.
Based on this exam, Dr. Sachdeva will create a custom treatment plan for you, which might include deep cleaning, root canal treatment, crown and bridge work, dental implant, or in worst case, tooth extraction. Once the condition has been diagnosed, Dr. Sachdeva will discuss with you about the dental crown process.
She will educate you about the appropriate procedures, address all your questions and concerns, and go over the crown material options that may be appropriate in your case. Feel free to share your suggestions and preferences about the looks, resilience and cost of the crown type with Dr. Sachdeva. She will help you make the best decision according to your needs.
Types of Crowns
Sunshine Smiles is equipped to offer the latest range of dental crown types to suit your unique requirements.
Porcelain-fused-to-metal Crowns
They are durable crowns. However, these will not appear as natural as a metal line will show along the gum line and give the crown a more opaque rather than a natural translucent appearance.
Porcelain Crowns
If you are looking for an esthetically superior option, Dr. Sachdeva may recommend a porcelain crown for you. Porcelain material mimics the natural translucence of the tooth enamel, which makes it an ideal match for the color of your surrounding teeth.
Zirconia Crowns
These zirconia crowns can match the look and texture of a natural tooth, and at the same time, offer superior resilience compared to porcelain crowns. Zirconia crowns integrate well with the surrounding teeth and gums.
Dental Crown Procedure at Sunshine Smiles Dentistry in Roswell
Tooth Preparation
To begin with, Dr. Sachdeva will treat any ongoing oral conditions, such as removal of tooth decay or a root canal procedure. She will then shape the sides and chewing surface of the affected tooth to fit the dental crown. This may involve the use of a local anesthetic.
Impressions and Temporary Crown
As a next step, Dr. Sachdeva will take impressions of your tooth. This impression will guide your custom fabricated crown creation. It will take a few days for a customized crown to be produced in the dental lab.
As a stopgap arrangement, Dr. Sachdeva will place a temporary crown to protect your tooth structure and provide esthetic support for a few days while your permanent crown is fabricated in the lab. She will provide you instructions for how to care for your temporary crown.
Crown Placement
During your second visit to our office, Dr. Sachdeva will remove your temporary crown and place the new, permanent crown in its position. Once you are comfortable with the fit of the new crown, she will bond it into place with a dental adhesive.
The crown will fit over your natural tooth structure or dental implant with its edges placed securely against your gum line. Dr. Sachdeva will then perform buffing and polishing of your crown to create a smooth, natural looking texture.
Sunshine Smiles Dentistry, dentist roswell ga, receives patients from Roswell, GA and nearby areas for dental crowns. You can schedule an appointment with us through our website or by calling (770) 998-8116