Dentures for missing teeth
Benefits of Dentures for Missing Teeth
Dentures are dental appliances used to replace missing teeth. They are prosthetic teeth that can be removed when sleeping or for cleaning. While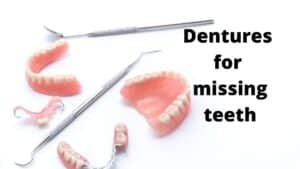 dental implants and bridges are attached permanently to the bone, dentures are fixed to the supporting structure of the teeth. Dentists in Roswell, GA provide different types of dentures that are less expensive than most other tooth replacement solutions.
What are the Benefits of Dentures?
Dentures that replace missing teeth help you chew better and improve facial appearance and are easier to clean than natural teeth because they can be removed.
Functional Benefits
Using dentures, it is possible to indulge in your favorite foods. Missing teeth can change your pronunciation; wearing dentures makes your speech clearer. Dentures can give you a more attractive smile. When properly cared for, dentures can last for several years. The exact degree of functionality depends on the overall condition of your jaw bone and gum tissue and also on how well the dentures fit into your mouth.
Cosmetic Benefits
Dentures fill the gaps left by missing teeth. This supports the facial structure and maintains the integrity of the surrounding teeth. If you feel that missing teeth detract from your appearance, an experienced dentist in Roswell, GA can fit you with dentures that greatly improve your appearance.
Cost Benefits
Our local Roswell GA dentists provide several tooth restoration procedures. However, compared to implants and dental bridges, dentures are far more affordable and easier to fit and do not need extensive number of sittings.
Occasionally, if you encounter denture problems you can read about our tips for  treating denture discomfort.
Schedule your appointment with our doctor today!