Professional Dental Cleanings
Despite regular brushing and flossing, plaque may build-up over time in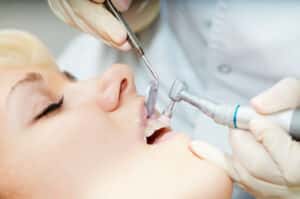 your teeth. Plaque build might happen in difficult-to-reach sites. Tartar is a form of hardened dental plaque.  Therefore, dental cleaning by your dentist or hygienist is necessary.
A teeth cleaning at Sunshine Smiles Dentistry will typically include tooth scaling and polishing. If excessive tartar is found, a debridement procedure may be performed.
Our highly trained dental hygienists employ cutting edge cleaning techniques. They use advanced instruments and expert skills to accomplish oral hygiene that is not possible for you to perform on your own at home. A thorough examination of your mouth and teeth will also be conducted along with the cleaning.
Sunshine Smiles' 5-Step Dental Cleaning Process
Step 1: Oral Exam
Prior to the actual cleaning procedure, our dental hygienist will begin with a general physical exam of the mouth. A small mirror will be used to evaluate your gums and teeth. This helps detect any signs of inflammation or other problems. If a serious concern is noticed, the hygienist will consult with our roswell dentist Dr. Suvidha Sachdeva. They would then continue the cleaning.
Step 2: Scaling
Scaling involves removing deposits or stains on the teeth. This is done using a dental scaler. A dental scaler scrapes plaque and tartar from the surface of your teeth. Our hygienist will use a scaler to remove plaque build-up and tartar around the gum line and between the teeth. Tartar is tough to remove, and will require more time to scrape thoroughly.
Step 3: Electric Brushing
Once tartar is completely eliminated, our hygienist will brush and polish your teeth. Brushing will be done by a high powered electric toothbrush. Polishing makes the teeth surface smooth. This is an effective way to remove any leftover tartar and provide a deep clean.
Step 4: Flossing
Compared to regular flossing at home, a flossing session with our hygienist can bring far superior results. The hygienist will reach deep in between your teeth. This will help identify any trouble zones where gums could bleed.
Step 5: Fluoride Treatment
Fluoride supports healthy tooth enamel and fights bacteria that harm teeth and gums. Our hygienist will perform fluoride treatment after flossing and thoroughly rinsing your mouth and tell you about the importance of Fluoride in oral health. This will fortify your teeth. Fluoride will help teeth combat cavities for several months to come. You may have to avoid drinking or eating for 15-30 minutes after treatment.
Visit Sunshine Smiles Dentistry when looking for dental cleaning in Roswell GA
We provide dental cleanings for both adults and kids. We accept most dental insurances. If you don't have dental insurance we offer ways to reduce your cost for teeth cleaning and treatment. Schedule your cleaning appointment today with one of our dental professionals!