Invisalign/Clear correct in Roswell GA
Dr Suvidha Sachdeva is trained to provide orthodontic treatment such as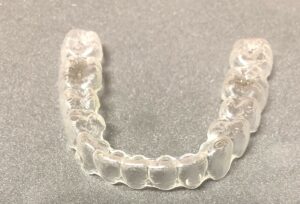 Invisalign / ClearCorrect. This involves a series of clear plastic, customized aligners. These aligners gradually guide your teeth into appropriate alignment. Dr Sachdeva will instruct you to wear these aligners for at least 22 hours a day. The aligners should be removed only while eating, brushing and flossing.
Aesthetic Superiority of clear correct/Invisalign
This technology has revolutionized the field of orthodontics with its aesthetically superior solution. In case of traditional metal braces, you will be required to bear conspicuous metal-based appliances for as long as your orthodontic treatment lasts. But with Invisalign/clear correct, your smile appears far more natural because these pairs of clear aligners are not so obvious to others.
If you have gaps between teeth, or the problem of underbite or overbite due to improper jaw development or other reasons, crowded teeth or crossbite issues, these can be corrected with Invisalign in most cases. Throughout the orthodontic treatment process, the mouthpiece will be barely noticeable to others.
4-Step Procedure
Step 1: Initial Appointment
During your first visit to Dr. Sachdeva's dental office in Roswell GA for Clear correct/Invisalign treatment, she will make your impressions and measure your smile dimensions to determine the best possible orthodontic treatment option and custom-crafting of your aligners and devise a personalized treatment plan. Dr. Sachdeva will also provide you with a digital representation of the expected final results after your treatment.
Step 2: Wearing your aligners
Once your series of customized aligners are ready Roswell Dentist, Dr. Sachdeva will instruct you how to wear them and use them for optimal results. You will choose the next pair of aligners in the series every two weeks.
Step 3: Visits to Track Progress
Dr. Sachdeva will require you to visit her every six to eight weeks during your treatment program so that she can monitor your progress. If any adjustments or improvements are necessary, it can be done very easily and quickly with timely interventions.
Step 4: The Perfect Smile
As your treatment comes to an end, Dr. Sachdeva will properly align your smile for an ideal look. See what our patients are saying about Roswell Dentist – Dr Suvidha Sachdeva and the success the patients are having with the clear aligners procedure at Sunshine Smiles Dentistry
Aftercare
Following the completion of your Invisalign/clear correct treatment, Dr. Sachdeva will determine whether you are required to continue wearing your final pair of aligners during sleep as a retainer.
This will ensure that you are able to sustain your new smile, and the teeth firmly acquire their new desirable position. You may also consider undergoing a teeth whitening procedure to highlight your new smile.
Book your free Invisalign/ClearCorrect consultation online at our dental office in Roswell Georgia or call us at (770) 998-8116