Dental Implants in Roswell GA
Dental implants, over the years, have emerged as the next best thing to having natural teeth. Our dentists in Roswell GA provides advanced dental implant treatments to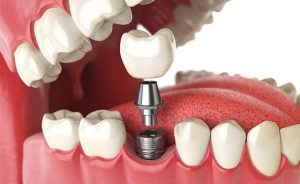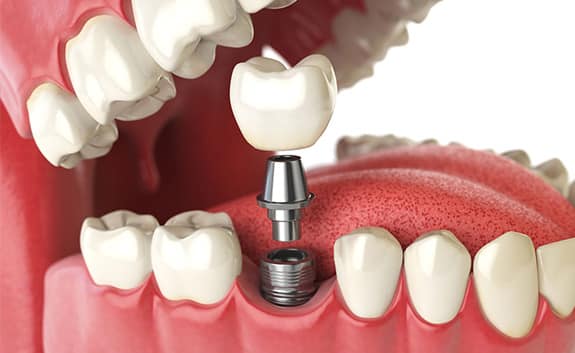 suitable candidates. This provides the most stable and natural looking solution to restore their natural smile. In addition this provides full oral form and function.
The dental implant will replace the complete tooth structure from root to crown. The implant itself is a small titanium or titanium alloy post that acts as a tooth root. The Implant will surgically embed in the precise position where the original tooth root existed.
Through a natural osseo-integration process, the implant post will fuse with your natural bone tissue. The implant, in that sense, becomes integral to your natural oral anatomy, and delivers nearly the same benefits as a natural tooth root. Dr. Sachdeva will then provide a custom-crafted crown to create the complete replacement tooth structure.
The doctor may provide a single implant to replace a missing tooth, multiple implants to replace multiple teeth, or multiple implants secure a dental bridge or secure dentures on the lower or upper arch or both. In some cases, the mini implants may be required, particularly where the jawbone is inadequate to support a full implant.
Dental Implant Procedure at Sunshine Smiles Dentistry
Consultation
Once you and Dr. Sachdeva have determined that dental implant replacement procedure is the best treatment option for you, she will explain the procedure steps in detail.
Sedation
If she prescribes oral sedation in your case, she will have you take the sedative pill one hour prior to the procedure. You will need to have someone who can drive you back home after the appointment.
Osseo-integration
The natural osseo-integration process will occur over the next three to six months, during which your implant post will solidly integrate with the jawbone tissue to provide a strong foundation for your dental restoration.
During this waiting period of a few months, you may have a temporary crown.
Permanent Crown
Once the implant post has firmly integrated with the bone, and the healing is complete, Dr. Suvidha Sachdeva will replace the temporary crown with a permanent crown. Check the Dental Crowns section to learn more.
Contact our dental clinic in Roswell to discuss about Dental Implants at (770) 998-8116