Dental Veneers in Roswell GA
Dental veneers are ultra-thin shells made from composite or porcelain material. Veneers are placed on the front surface of one or more teeth to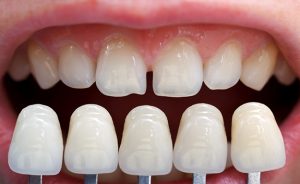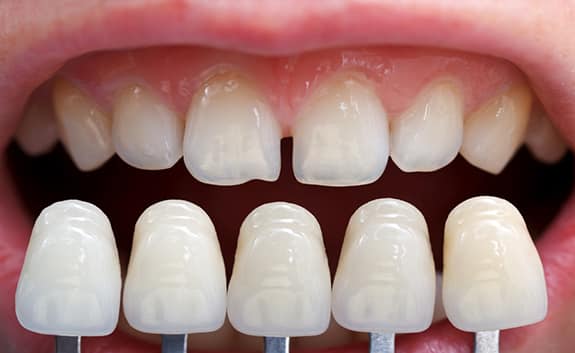 create a bright smile. Cosmetic dentist in Roswell GA, Dr. Suvidha Sachdeva  is a fully trained and experienced provider of dental veneers. She will provide you individually crafted veneers that closely match with your natural tooth enamel.
If you are suffering from stained, pale or discolored front teeth, or have minor chips, cracks, or gaps between teeth, Dr. Sachdeva may recommend porcelain veneers as a conservative and cosmetically superior treatment option for you. Minor misalignment of teeth may also be improved with veneers. Dr. Sachdeva will assess your general oral and periodontal health to determine your candidacy for veneers.
Cost-Effective Treatment Option
Many patients are concerned about the relatively higher upfront costs of porcelain veneers treatment. During your initial consultation, Dr. Sachdeva will explain the long-term durability, sustained excellent oral aesthetics, and multiple applications of veneers to help you consider this treatment as a cost-effective investment.
Porcelain veneers may deliver you the benefits of teeth whitening, dental crowns and orthodontic treatment in a single treatment. With virtually no costs of maintenance throughout the lifespan of your veneers, it can prove to be a more beneficial and more cost-effective treatment in the long run.
Porcelain Veneers Procedure at Sunshine Smiles Dentistry
Consultation
Once you and Dr. Sachdeva have agreed on the veneers treatment and the specific type of dental veneers that are most appropriate for your needs, she will identify the number of teeth that may require veneers. At this time, Dr. Sachdeva will also take images, x-rays and dental impressions for your teeth.
Tooth Preparation
Tooth preparation will be a vital stage of your dental veneers procedure. Cosmetic Dentist Dr. Sachdeva will create a proper foundation to achieve a solid bond between the veneer and the teeth, and ensure a natural smile. She will first delicately remove a fine layer of enamel from the affected teeth according to the thickness of the veneers to be placed.
Temporary Veneers
Following your teeth preparation, Dr. Sachdeva will make impressions of your teeth to create precise veneers in an off-site dental lab. The custom fabrication of veneers will take a few days, and meanwhile Dr. Sachdeva will provide you with a set of temporary veneers. If very little enamel has been removed from your teeth, the need for temporary veneers may be avoided.
Shaping and Color Matching
Once the porcelain veneers are ready, Dr. Sachdeva will review their appearance, color and shape, and ensure that it is not causing any alignment concerns or impacting your bite. If needed, she will delicately reshape or trim down the veneers.
Color matching can be fine-tuned at the time of permanent placement by choosing the appropriate shade of bonding material. Dr. Sachdeva will seek your feedback during this shaping and color matching process to create the right veneers that perfectly suit your cosmetic dental needs.
Veneers Placement
Finally, Dr. Sachdeva will use dental cement to permanently fix the porcelain veneers on the front of your teeth. She will apply a gentle force to ensure the veneers are firmly placed. She will then apply a curing light to harden the dental cement, which will take a few minutes. Dr. Sachdeva will perform final finishing and you will be all set to experience a dazzling new smile with your permanent porcelain veneers.
Contact our Roswell Dental office at Dentist Roswell GA(770) 998-8116 to schedule an appointment to discuss Veneers. We see patients looking for a dentist near Dunwoody, Sandy Springs, Johns Creek, Marietta and surrounding communities