Comprehensive Dental Exam
To maintain optimal oral health, the American Dental Association (ADA) recommends regular dental visits, usually once in six months. A comprehensive dental exam during your visit enables us to check for problems that you may not observe or feel. Preventative dental care is one of the vital aspects of your oral health management at Sunshine Smiles Dentistry in Roswell, GA.
How often should you visit us?
While two dental visits a year work well in most cases, you may require more frequent visits if you suffer from gum disease, have a family history of dental decay, or are more susceptible to infections. On the other hand, if you are in good general and oral health, and maintain excellent oral hygiene, you may need to visit us less often.
A typical Dental Exam at Sunshine Smiles Dentistry
Experienced dentist Dr. Suvidha Sachdeva, along with her dental hygienist,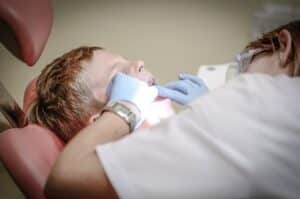 will see you during your dental visit to our office. A preliminary oral exam of your gums will be performed by the hygienist, who will also speak to you about daily care for your gums and teeth, and address any questions you may have about oral hygiene and everyday oral care products.
Dr. Sachdeva will examine the condition of your teeth and gums. She will inquire about your general health and medications. She will perform an oral cancer screening and look for other oral diseases such as gingivitis. She will determine whether any x-rays are required to diagnose any specific condition, and recommend most suitable treatment options.
Based on the results of your exam, Dr. Sachdeva as well as the hygienist may provide certain instructions to follow at home. Feel free to ask questions about the general care for your oral health or the right way to do brushing and flossing.
If specific oral health concerns are identified during your dental exam, Dr. Sachdeva will recommend the next course of action. This may include additional diagnostic tests, restorative treatments such as fillings or Dental Crowns, or a referral to a specialist.
Please contact our office
on Market Place in Roswell
to schedule your Comprehensive Dental Exam.