Deep Cleaning for Periodontal Disease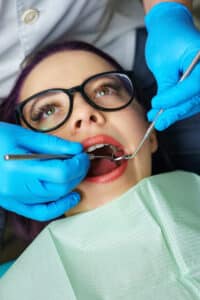 According to the CDC data, nearly one out of two adults in the US aged 30 years and older has some form of periodontal disease. Looking into this high prevalence, Sunshine Smiles Dentistry follows the American Academy of Periodontology (AAP) recommendation of an annual comprehensive periodontal evaluation (CPE) to identify conditions such as periodontal disease.
If you have skipped a few dental cleanings, you might require a deep cleaning of your teeth. Our dental hygienist in consultation with our dentist Dr. Suvidha Sachdeva, may recommend a deep cleaning where it is necessary to treat the early signs of gum and periodontal disease. The hygienist will use a probe to measure the gap or pocket between your teeth and gum tissue (where harmful bacteria germinate).
The National Institute of Dental and Craniofacial Research (NIDCR) suggests that in a healthy mouth, the pocket between the teeth and gum tissue is usually between 1 and 3 millimeters. If the pockets are more than 5 millimeters, Dr. Sachdeva may recommend a deep cleaning procedure with the dental hygienist.
Deep cleaning process typically involves scaling and root planning. Scaling involves scraping off the tartar from above and below the gum line. Root planning involves elimination of rough spots on the tooth root where the bacteria gather.
This twin procedure at Sunshine Smiles Dentistry in Roswell, GA is performed using advanced deep cleaning tools to ensure less bleeding and swelling. Following the treatment, Dr. Sachdeva, dentist at Sunshine Smiles Dentistry, may recommend a follow-up appointment to confirm that no signs of periodontal disease remain and the health of your gums and teeth is progressing as expected.