Dentures and partial dentures in Roswell Georgia
Dentures and partial dentures are removable oral appliances to replace your missing teeth in the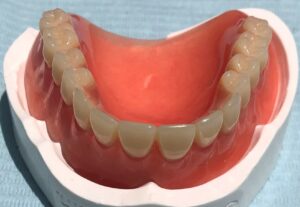 lower or upper jaw or both. You can remove them while sleeping, for cleaning, or as needed. Experienced dentist Dr. Suvidha Sachdeva of Sunshine Smiles Dentistry, Dentist Roswell GA, will offer you the options of traditional acrylic and cast metal dentures as well as superior porcelain cosmetic dentures according to your specific restoration and aesthetic needs and budget.
Types of Dentures
Dr. Sachdeva will provide you with full or partial dentures, depending on whether you are missing all or some of your teeth.
Full Dentures
You will need full dentures if you have lost all of your natural teeth in the lower or upper jaw or both.
Partial Dentures
If you have lost some of your teeth in lower or upper jaw or both, and wish to avoid the options of dental bridges or implants, our local dentists may recommend partial dentures as a solution.
Conventional Dentures
These dentures will be placed once the gums and bone have healed following the extraction of natural teeth. Although the waiting period can be taxing, but you will get well-fitting dentures in this case.
Immediate Dentures
These dentures will be fitted immediately after the removal of your natural teeth. This solution will let you have a full smile and full oral function from day one. However, the healing of jawbone and gums will gradually alter the fit of your mouth, and you will most likely require a new set of conventional dentures in six to eight months.
Implant-Supported Dentures / Overdentures
If you have sufficient bone availability and are looking for enhanced stability of your dentures, Dr. Sachdeva may recommend dental implant supported dentures. With these dentures, you will feel free to eat, talk, smile and laugh confidently because these dentures will securely remain in place.
Implant-anchored dentures will multiply your biting force and allow you to chew your food far more easily. Compared to traditional dentures, your ability to speak with these stable dentures will be much improved. Implant supported dentures are more comfortable, look and feel more natural, and do not require any dental adhesive to retain them in their place.
Traditional dentures will rest on your gum tissue, which may eventually cause gum recession over time. But implant-anchored dentures are supported by dental implants and not the gums. Therefore, it will not cause gum tissue degeneration. If you are looking for dental implants near Roswell, GA 30076 contact us today!
Frequently asked questions about dentures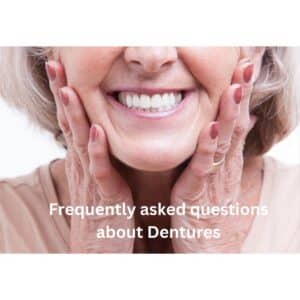 How can I get natural-looking dentures? Read the answer by our dentist in Roswell, GA…
Our dentists can provide beautiful, natural looking dentures that are customized for your mouth. The array of full and partial denture options, combined with advancements in dental technology, has enabled skilled and resourceful dentists to provide highly customized solutions for tooth restoration. At Sunshine Smiles Dentistry, we work closely with patients to customize the appearance of dentures. Factors like tooth color, shape, and alignment are considered to achieve a natural look that complements the patient's facial features. We use the best labs to fabricate the dentures and our dentists will work with you to ensure optimal fit for your dentures. The end rest is beautiful natural looking dentures.
How much do dentures cost?
The cost of dentures depends on a lot of factors. Similar to medical procedures or surgeries there are several things that determine the cost of dentures. At Sunshine Smiles Dentistry we can provide you with a more accurate estimate once you have a consultation with our denture experts at our Roswell Dental office.
Some items that determine the cost of dentures:
Also, read about some common denture problems and solutions.
Find Complete, Natural-Looking Dentures in Roswell, GA Today
Contact our office for a denture or partial denture consultation with our Roswell dentists at (770) 998-8116