Dental Bridges in Roswell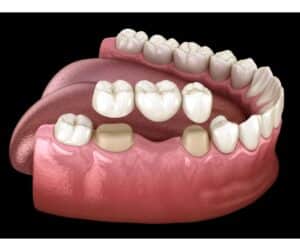 At Sunshine Smiles Dentistry, we often have patients from in and around Roswell Georgia, who want to restore their missing tooth with the dental Bridge. In such cases, our cosmetic and restorative dentist Dr. Suvidha Sachdeva may recommend a traditional dental bridge as a less invasive, low risk, and more affordable solution to replace the missing tooth.
The dental bridge will actually bridge the gap that will occur when one or more teeth are lost. The typical bridge includes one or more fabricated teeth, which are called pontics. These will be firmly held in position by two dental crowns or abutments. Irrespective of the type of dental bridge a patient receives, the treatment will help restore oral health and function, and create a desirable smile.
Consultation
During your initial consultation, Roswell Dentist, Dr. Suvidha Sachdeva will determine whether a bridge is the most appropriate restorative treatment option in your case. She will conduct a thorough dental exam, which may include x-rays for a more detailed diagnosis. Following a diagnosis, Dr. Suvidha will closely engage with you to create as customized treatment plan.
Based on your personal preferences as well as the size and location of the restoration, Roswell Dentist, Dr. Suvidha Sachdeva of Sunshine Smiles Dentistry will recommend the most appropriate bridge type for you. She will consider your overall oral health, lifestyle habits and financial budget to make the best possible bridge material. Once a decision is made, she will take impressions and images to start the custom designing process for your dental bridge.
Tooth-Supported Bridge
The bridge is traditionally a crown-supported restoration, where the crowns are placed directly over the adjacent teeth to the missing tooth. Dr. Sachdeva will carefully reshape these teeth in a conservative manner to create room for the bridge and provide stability to the restoration. Pontics will attach to the crowns to create a complete, natural smile.
The key advantage of a crown-supported bridge is the ease and efficiency of this procedure. You will need to visit our office just twice, and leave with a natural smile and full oral health and function. However, the health of the adjacent teeth that support the restoration will be marginally compromised.
Implant-Supported Bridge
An implant-supported bridge is an alternative for patients who do not want a traditional bridge. Your dental implant will be placed directly into the jawbone. Dr. Sachdeva will use an abutment to secure a customized bridge restoration directly to the titanium implant post. Your implant will effectively serve as your tooth root, ensuring more stable and sustainable restoration.
Bridge Materials
Porcelain-fused-to-metal
These bridges will have a metal base to provide added strength. our dentists will carefully match the outer porcelain shell to the color of your natural teeth. But the limitation with this type of bridge is that the porcelain shell may begin to wear out after several years of use, resulting in a slightly grey tinted tooth appearance.
Porcelain
All-porcelain bridges provide a superior aesthetic appearance. Sunshine Smiles Dentistry in Roswell GA provides advanced dental porcelain bridges that will seamlessly blend with your natural smile, delivering you an outstanding functional and aesthetic value for years to come.
Zirconia
Zirconia is a cutting edge material that offers high strength and requires minimal alteration to your natural tooth structure, and is available in a variety of shades to find the near-perfect match for your natural looking smile.
Contact Sunshine Smiles Dentistry for your dental bridges today!
Contact our dental office in Roswell for a Dental Bridge consultation at (770) 998-8116 or make an appointment online.