Implant supported dentures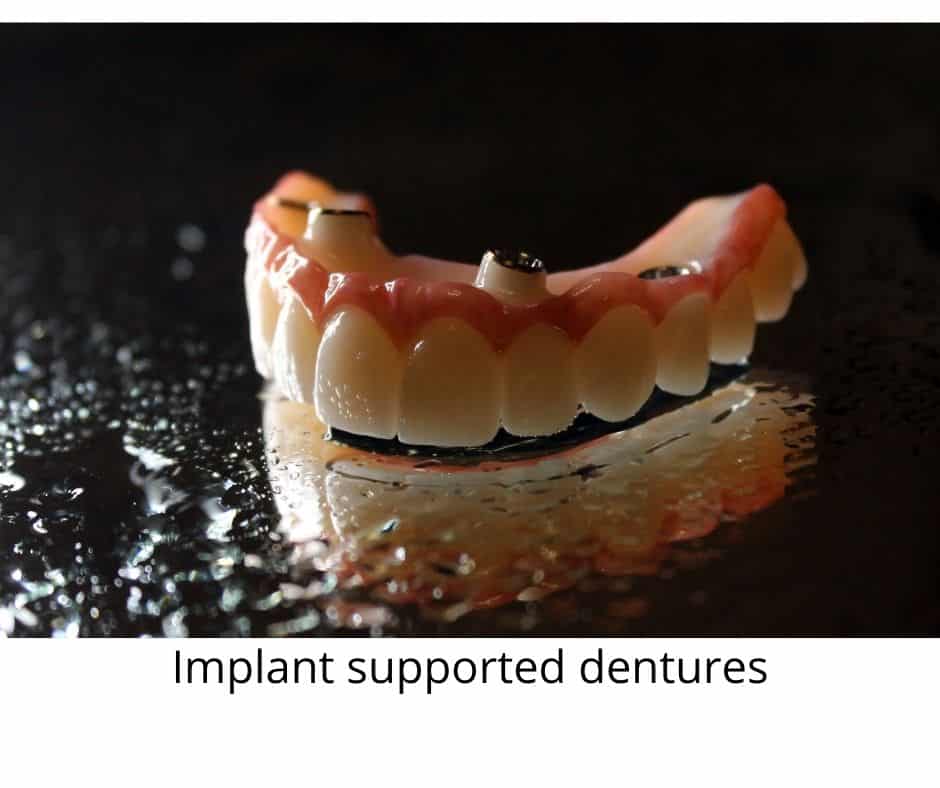 In implant-supported dentures, your dentist will place the implant root with an abutment secured at the top, but without a crown. Instead, there is an arch that will fasten to the abutments of 4 dental implants, thus creating a complete denture arch.
A dental implant is an artificially created tooth and root structure. It resembles a natural tooth in both its looks and functionality. It typically consists of a titanium implant root with a crown at the top and is surgically inserted in the jaw bone.
Implant Supported Dentures are Effective and Dependable
Conventional dentures have been around for a long time but edentulous patients often find them disagreeable and inadequate. Dental implant-supported dentures are fast turning into the preferred and popular choice as the most dependable and effective type of full-mouth dentures. Read how denture implants can give you a confident smile.
Both implant-supported dentures and implant-retained dentures provide denture stability. However, the former absorbs the force of the bite into the jawbone instead of exerting force on the gums, thus providing the most effective and natural bite for the patients.
Benefits of Implant Supported Dentures
Some of the major benefits of implant-supported dentures are:
Excellent Stability
Implant-supported dentures are the closest you can get to the look and functions of natural teeth as they are directly moored in the jawbone. High stability has many advantages, like:
Improved speech and confidence
Reduced irritation of gum tissue
Improved chewing resulting in better digestion
No need for denture adhesives
More biting force translating into a broadening of dietary options
Less Jawbone Loss
The removal of natural teeth to implant traditional dentures weakens the jaw bone, and slowly dissolves it. But in the case of implant-supported dentures, the implant root strengthens the jawbone and prevents atrophy, aiding the jaw to maintain its shape and strength.
No Adhesives to Worry About
Traditional dentures can be messy and troublesome to hold in place with denture adhesives. Most patients constantly worry about the device shifting or slipping. But with implant-supported dentures, patients can eat, talk, or laugh without such apprehensions, as the implants help in anchoring the dentures.
Eat the Foods You Want
Traditional dentures can be frustrating when eating certain foods. Seeds may get stuck underneath dentures and hard foods can be painful to chew apart from causing damage to dentures. But implant-supported dentures provide a biting force that is 3 times that of traditional dentures and lets you eat like you would with your natural teeth.
Brush Normally
This solution enables you to brush your teeth as you normally. You do not have to remove your dentures to soak them. It is less of a headache each night at bedtime.
Boost Your Confidence
Improve your quality of life, raising your confidence levels with this denture solution. They allow you to live freely with less self-doubt and higher self-esteem.
Look and Feel Natural
These types of dentures are customized and fitted to function as an optimal replacement for your natural teeth. No one in social gatherings can deduce that you are wearing them.
Visit Us for Dependable Implant Supported dentures in Roswell, GA
If you are looking for full-mouth dentures for the first time, or feel frustrated with the traditional ones you are currently using, you have more options that can last you a lifetime. Our well-known dental office in Roswell, GA offers advanced solutions to provide you with more convenient and secure dentures. Our dentist can help you decide if you are a good candidate for dental implants.
Sunshine Smiles Dentistry puts a special focus on cosmetic dentistry. We want to provide the best possible smile while improving the oral health of our patients.
You can schedule an appointment with our dentist online or call us today at
+1 (770) 998-8116
or visit our office in North Fulton.