Sometimes a tooth may have been decayed or damaged to an extent where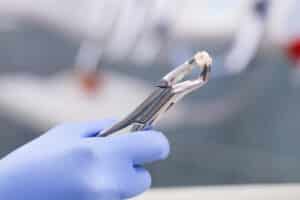 a dental extraction is needed since its restoration with a filling, crown or another treatment is not possible. Or, the tooth may have become very loose, and there is no way to save it even with bone grafting. Teeth causing a severe malocclusion may also have to be extracted. Sometimes wisdom teeth removal is needed. In all such cases, experienced dentist Dr. Suvidha Sachdeva of Sunshine Smiles Dentistry, Roswell GA, will prescribe an appropriate dental extraction procedure.
Preparation for Dental Extraction
To create the best possible tooth extraction plan, Dr. Sachdeva will first take an x-ray of the affected site. She will review your medical and oral health records, and check the list of all your prescription and non-prescription drugs that you may be currently taking. She may order a panoramic x-ray in some cases. This x-ray will show multiple things at once to plan an extraction because it takes an image of all your teeth.
Dr. Sachdeva will assess the relationship between your compromised tooth and other teeth, the relationship between your upper teeth and sinuses, and the relationship between your lower teeth and the jawbone nerve. She will also look for any signs of infections, bone disease or tumors in the mouth. She may prescribe antibiotics in specific cases, if you have an infection, weakened immunity, or other specific health conditions.
Dr. Sachdeva will advise you against smoking for a few days prior to the scheduled extraction. You may also need someone to drive you back home after the procedure. The Sunshine Smiles team will provide you detailed post-treatment care instructions for safe and speedy recovery.
Procedure
If the tooth is visible in the mouth, Dr. Sachdeva will perform a simple extraction. She will use an instrument called an elevator to loosen the targeted tooth, and then use dental forceps to remove it. But in a few cases, a more complex procedure called a surgical extraction may have to be performed.
Dr. Sachdeva will either perform a surgical extraction herself or refer you to an oral surgeon, if the tooth has not erupted in the mouth yet, or has broken off at the gum line. This procedure will involve a small incision into the gum tissue. In a few cases, a small portion of the bone around the tooth may have to be removed or the tooth may have to be cut into half to extract it more easily.
Simple extractions at Sunshine Smiles Dentistry, Roswell GA, are performed using a local anesthetic. In case of surgical extractions, Dr. Sachdeva will prescribe the appropriate anesthesia or sedation, depending on the circumstances of a particular case. In any case, you will feel no pain during the tooth extraction procedure. Be sure to tell Dr. Sachdeva if you experience any discomfort or pinching at any point during the treatment.
Dr. Sachdeva and her team will provide you with a set of instructions for post-treatment care and follow-up. They will encourage you to ask questions, address all your concerns in detail, and make you feel completely reassured as you leave for home.
Roswell Dentist that does tooth extractions
Contact Sunshine Smiles Dentistry if you are looking for a tooth extraction in Roswell, GA