Sealants offer a quick and easy way of protecting teeth by acting as barriers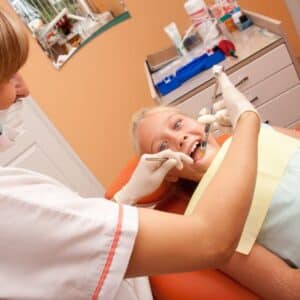 on cavity-prone areas. They are usually applied to back teeth to cover the chewing surface in children and are many times used to cover grooves, dips and pits as well. Sealants can benefit both primary and permanent teeth. It is important to understand that the likelihood of developing fissure and pit decay begins early on in childhood making children and teenagers obvious candidates for sealants.
This article will talk about what dental sealants are, how they are applied, whether they hurt, what the research says and tips to prevent tooth decay in children.
What are dental sealants?
Thorough brushing and flossing can remove the majority of plaque and food particles from teeth with smooth surfaces. However, toothbrush bristles cannot extract food and plaque that is deposited all the way back in the numerous depressions and grooves. If you want to protect your child's teeth from cavities and don't want to worry about making trips to Sunshine Smiles Dentistry, dentist Roswell GA, for fillings, then yes, sealants are required.
Dental sealants are nothing but a simple protective coating that is sealed by painting on your child's back teeth, also called molars. The coating effectively protects the teeth from plaque buildup and cavities that may form in the deep pits of these teeth. These sealants are known to prevent up to 80% cavities and can stay on the teeth for years without the need of any reapplication.
How are dental sealants applied?
Sealants are applied in a very simple and straight-forward process. It is painted on the teeth enamel where it effectively bonds directly with individual tooth and hardens in place. This plastic resin concoction bonds into pits and fissures of the chewing surface of the molars.
The sealant acts as a protective barrier that prevents plaque, bacterial overgrowth and acids from harming the molars. Sealants also protect individual tooth from decay. The dentist will check the condition of sealants during your child's regular dental visits and reapply whenever required.
Do Sealants hurt?
Application of sealants does not hurt one bit. The process is simple, pain-free and can be carried out in your dentist's office. In fact, there are many schools which have a school-based dental sealant program for children who don't have access to dentists on a regular basis.
What does the research say?
In a recent report by the Centers for Disease Control and Prevention (CDC), sealants have been touted as the go-to procedure for children to prevent lost school time due to tooth decay.
The report states that sealants can help prevent 80% of cavities for at least two years after application. They also continue to prevent 50% cavities for up to 4 years. According to CDC, sealants can be retained in children's mouth for up to 9 years without side-effects.
Statistics indicate that children who don't have sealants are three times more at risk of developing cavities as opposed to children with sealants.
Tips to prevent tooth decay in children
Brush your child's mouth twice daily with a fluoride toothpaste
Use floss to clean between the teeth daily (preferably in the evenings)
Limit snacks and encourage your child to eat a balanced diet
Get your child the dental protection they need with the help of sealants by calling at 770-998-8116 or scheduling your child's dental visit online