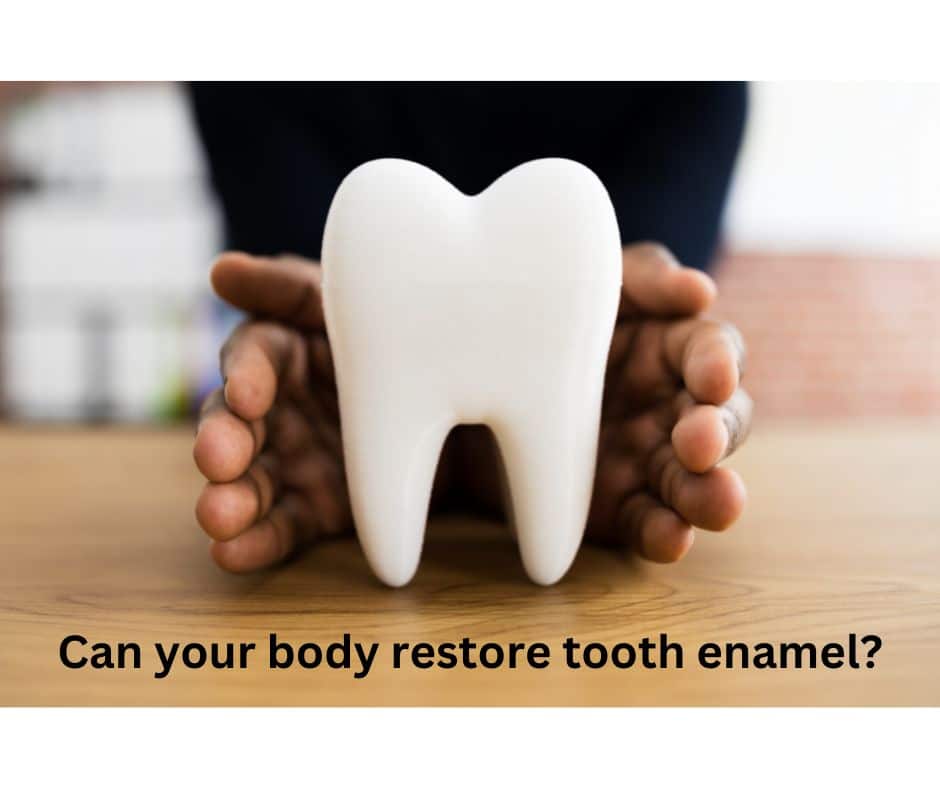 The answer to the question: Can your body restore Tooth Enamel is: No! Human body cannot naturally restore tooth enamel. Once the enamel is worn out or damaged, it cannot grow back or self-repair. The reason is that dental enamel in a baby develops through a complex mineralization process regulated by a thin layer of cells called ameloblasts.
As the enamel matures and teeth eruption takes place, these cells (ameloblasts) either die or get integrated with the gum tissue. What is left behind on the tooth surface is a hard mineralized compound that cannot regenerate itself – if damaged – because it has no cells remaining that could re-grow or multiply.
But here's the good part. Tooth enamel is the strongest, hardest and the most resilient substance in your body (yes, it is even stronger than your bones!) Nature's flawless biological design has ensured that as an omnivore you can keep biting, chewing and chomping on all kinds of natural foods – and your tough dental enamel will survive a lifetime of demanding work in a harsh oral environment.
Why Does Tooth Enamel Erode or Get Damaged?
While the enamel is a robust and powerful protection for your teeth, it can gradually lose the battle against the forces of dental decay and damage resulting from excessive exposure to sugary, acidic and processed foods, carbonated drinks, hard substances, and poor oral hygiene that allows for an invasion of harmful bacteria.
According to the CDC figures, 26% of American adults live with untreated tooth decay, and more than half of all children between the age of six and eight have suffered at least one cavity in their baby teeth. Bruxism or teeth grinding among both kids and adults is another cause of enamel erosion.
Is Re-mineralization of Teeth Enamel Possible?
Yes, the natural re-mineralization of tooth enamel continually takes place as your body supplies vital nutrients and minerals, such as calcium, phosphorus and fluoride to your teeth. In other words, while your body cannot regenerate lost enamel, it can strengthen and restore the existing enamel through constant re-mineralization.
You and your dentist can promote and reinforce this natural process of enamel re-mineralization in the following ways:
Visit your dentist twice a year for a dental exam and professional dental cleanings.
Follow your dentist's advice on what type of fluoride toothpaste you should use and brush with it twice daily.
Use floss or another inter-dental device your dentist may recommend for daily cleaning between your teeth.
Undergo timely dental treatments for any oral health conditions or tooth decay that may be hastening enamel erosion.
Ask your local dentist near you for what type of foods can provide more nutrition to your teeth and what type of foods and drinks you should avoid.
Stay sufficiently hydrated at all times to generate adequate saliva flow, which helps fight tooth decay.
Restorative Dental Techniques to Protect or Repair Tooth Enamel
An experienced and resourceful dentist will not be able to regenerate your damaged or eroded tooth enamel, but they can provide you safe and proven dental solutions to preserve or repair the enamel. Here are some of the treatment options your dentist may be able to offer:
Dental Fillings
If your dentist detects a developing cavity in your tooth, they can take preventive steps to remove the decay and fill the cavity with a sustainable and biocompatible material. The filling may be composed of one or more materials, such as porcelain, composite resin, or glass ionomer, which are tooth-colored components and will not be conspicuously visible.
Dental Bonding
This technique is used to repair cracked, chipped, discolored or decaying teeth, close minor gaps between teeth, or protect an exposed part of the tooth root in case of gum recession. A durable synthetic resin material (tooth-colored) is applied to the affected tooth and hardened with a medical light so that it bonds strongly with the tooth. Bonding can help preserve or repair the damage caused to the teeth enamel.
Dental Veneers
Tooth veneers are customized, ultra-thin shells that are placed over the front surface of stained, discolored, chipped, cracked, spaced or imperfect teeth to restore a healthy and attractive smile. Veneers can be made from tooth-colored composite resin or porcelain materials. High quality veneers can help protect tooth enamel and prevent future damage. Contact Sunshine Smiles Dentistry for dental veneers near Johns Creek, GA today!
Dental Crowns
If the tooth structure has been compromised because of severe decay, a root canal treatment, or tooth trauma, a custom-crafted "cap" called a dental crown can be placed over the weakened tooth. This will not only restore the appearance, strength, size and shape of the tooth, but will also serve as a reliable solution for damaged or lost tooth enamel. Contact Sunshine Smiles Dentistry If you are looking for a dental crown in Roswell, GA.
Vital Nutrients in Your Daily Diet to Strengthen Tooth Enamel
A dedicated dentist can educate you about healthy dietary choices that can help strengthen dental enamel and support its natural re-mineralization process. Here are six vital minerals and vitamins you should include in your daily diet in consultation with your dentist:
Calcium: This is the principal mineral your body needs to help strengthen your bones and teeth enamel. Milk, cheese, yogurt and other dairy products as well as almonds, beans, and leafy veggies are excellent sources of calcium.
Phosphorus: After calcium, this is the second most important mineral that works to preserve and strengthen dental enamel. Meats, fish, poultry and eggs, beans, nuts, dairy products, and bananas are some of the well-known sources of phosphorus.
Vitamin D: This is an essential vitamin to strengthen your tooth enamel for two reasons. It supports the absorption of calcium to fortify your bones and teeth. Secondly, it improves the mineral density of your teeth enamel. Sun is a natural source of vitamin D.
Vitamin A: Your dental enamel contains a protein called keratin. Vitamin A helps in the production and preservation of keratin to support healthy enamel. Meats, fish, egg, carrots, cantaloupe, sweet potatoes, and dairy products are rich in vitamin A.
Vitamin C: Dentin is a calcified tissue that lies beneath your tooth enamel. Vitamin C performs a key role in the collagen synthesis process of dentin and helps maintain tooth enamel. Citrus fruits such as oranges, grapefruit and kiwi fruit, broccoli and Brussels sprouts are rich in vitamin C.
Vitamin K2: This is a powerful calcium binder and it also enhances the saliva buffering capacity in the mouth. Moreover, it fights the acid generated by the oral bacteria flora that can harm tooth enamel irreversibly. Beef liver, chicken, seafood, cheese and egg yolk are good sources of vitamin K2.
Researchers are Seeking Ways to Rebuild Tooth Enamel
While it is challenging to scientifically reengineer the complex tooth enamel structure, researchers have been working on this idea for years. A study published in the Science Advances journal showed that researchers have succeeded in reproducing the key constituent of tooth enamel – calcium phosphate – in microscopic clusters as tiny as 1.5 nanometers to mimic the natural enamel.
Researchers at the University of Washington are using genetic engineering to recreate the foundational elements of tooth enamel – calcium and phosphorus ions and peptides. Researchers are aiming to utilize this process to develop lozenges that can be used to repair or rebuild damaged tooth enamel.
A University of Michigan research team is attempting to artificially produce dental enamel by combining hydroxyapatite mineral (which is a natural component of the actual enamel) with a malleable metal coating. The new material mimics the hardness and elasticity of natural enamel, but it needs further refinement to come close to the real thing.
Stem cell researchers have developed a new 3D model that may help regenerate ameloblasts (the natural cells which contribute to enamel formation in a baby) at some point in the future, and eventually contribute to the rebuilding of dental enamel. The study results were published in the journal Cellular and Molecular Life Sciences.
Dental Solutions from local Roswell Dentist: Sunshine Smiles Dentistry
While the human body cannot rebuild or repair tooth enamel, future innovations in regenerative dentistry promise life-altering solutions to enhance oral health. Sunshine Smiles Dentistry, Dentist near Roswell Georgia, led by Dr. Suvidha Sachdeva, is at the leading edge of advancements in the dental field.
We are constantly updated with the latest treatments and solutions to resolve complex dental problems most effectively for our patients. To book an appointment at our award-winning dental practice in Roswell, GA, use this link or call us at (770) 998-8116.