Four Proven Benefits of All on 4 Implants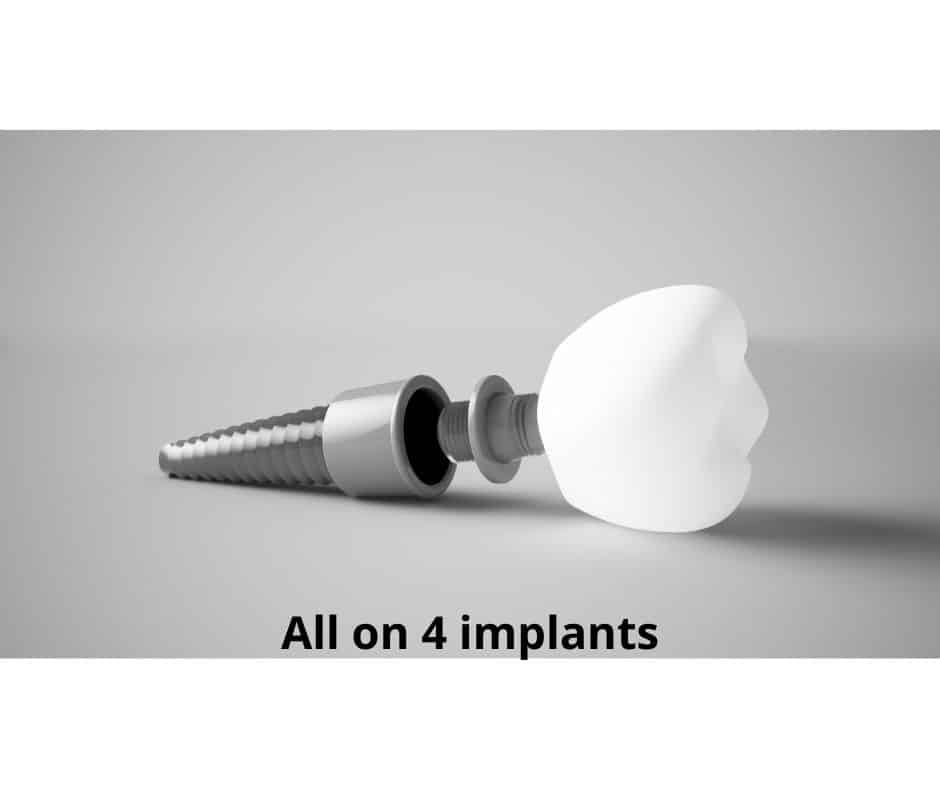 All on 4 implants or full-arch implant is a surgical dental procedure that refers to four or six dental implants supporting all teeth. The implants support a 10-14 teeth prosthesis typically placed within 24 hours of surgery.
These fixed implant bridges use materials like monolithic zirconia, acrylic fused to titanium, and porcelain with cobalt-chromium. Some dental practices promote All-on-4 as the best procedure for rehabilitation of the edentulous patients with decayed, compromised, or badly broken teeth.
The unique All-on-4 technique is known for its precision in post placement with the help of a fabricated metal surgical guide.
Advantages of All on 4 Implants
There are manifold advantages of the All-on-4 technique. There are advantages to your oral health and other areas of your life. Here are some of the benefits of this procedure:
Prevents Bone Loss
Lost and missing teeth usually lead to degradation of the jawbone. In the All-on-4 method, the implants fix directly to the jawbone. They act like the roots of natural teeth. This also effectively minimizes the effect of bone loss.
The pressure of the implants on the jawbone exactly resembles that of natural teeth, bolstering bone mass retention and administering strength and stability to the area. The All-on-4 technique has its uses even in patients with some level of bone loss.
The implants substantially reduce the need for a bone graft to proceed further. This is because they implement a stable connection to the jaw bone. This in turn significantly reduces treatment and recovery timelines.
Boosts Self-Esteem
The All-on-4 method provides patients an entire set of new, as-good-as natural teeth. These teeth are firmly and comfortably linked in the mouth. This also empowers them to enjoy their favorite foods, and partake of a variety of food and drink, without worrying about it anymore.
Knowing that their teeth are strong, secure, and stable; tremendously boosts the self-esteem and confidence of the patients. They can now go through life with little concern about situations where their loose dentures could be the source of embarrassment for them.
Easier Aftercare
Aftercare for your All-on-4 implants and teeth is relatively easy if you just follow the normal oral care practices that you are familiar with. You need to keep up with the important and necessary routine activities like brushing, oral rinsing, flossing, and getting regular dental checkups.
Not requiring any costly or messy adhesives is another benefit that you can reap from the All-on-4 technique. This saves a lot time and money in the long run.
A Lasting Solution
Another major benefit of the All-on-4 treatment is that the procedure is for good. The results are permanent. Traditional dentures on the other hand require time-consuming fitting sessions.
In the traditional implants, gum recession causes the dentures to become loose and uncomfortable over time. But with the All-on-4 technique, the dentures are securely fastened and not prone to the same problems.
All-on-4 method helps in a permanent solution resulting in more comfort and satisfaction for the patient.
Meet Your Trusted Dentist in Roswell, GA for Dental Implants
We can look after your family's needs for high-quality dental clinic in Roswell, GA. For a thorough appraisal of your dental condition and whether you might require an All-on-4 dental implant, consult the dental experts at Sunshine Smiles Dentistry in Roswell, GA at 770-998-8116..