Invisalign Braces Roswell GA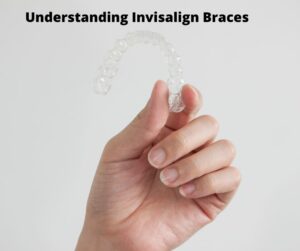 Invisalign braces (or Invisalign Clear Braces) are the recommended treatment for straightening crooked, crowded and misaligned teeth. They are invisible dental aligners that can be removed.
Is Invisalign same as Braces?
Invisalign is a major departure from conventional metal braces. Traditional braces are made of metal and comprising of wires, brackets, and elastic bands. Clear braces made of plastic is used in invisalign treatments. This is more convenient and comfortable as compared to traditional braces.
Invisalign Braces helps in Oral Aesthetic Enhancement
The name invisalign comes from invisible aligners that are helpful in achieving the required corrections. This treatment is subtle and minimally interfering. However, that doesn't mean the functional benefits are any less than traditional braces.
Oral conditions such as misaligned, crooked, or protruding teeth (in front) can be corrected by using invisalign treatment. Other complex dental conditions, including overbite, under-bite and major malocclusion can also be corrected using invisible aligners.
What is the Invisalign Treatment Process?
The first step of the Invisalign Roswell GA treatment at Sunshine Smiles Dentistry is Dr Suvidha Sachdeva taking digital pictures, images, and impressions of your individual teeth. This is helpful in mapping out the precise movement of your teeth. The dentist then designs the treatment plan. This usually includes custom-made aligners fabricated in a dental lab that fits your teeth perfectly.
To ensure that you get the most from your invisalign treatment, it is very important that you wear the aligners at all times, except during your oral hygiene routine and eating.
Your teeth will slowly and steadily start to move in the desired place with this treatment. Most people are unable to tell that a person is wearing braces since the aligners are almost invisible. Most people achieve the expected results within 12 to 16 months.
What are the Key Benefits of Invisalign Braces Treatment?
A major benefit of the treatment is that it can successfully improve the appearance of teeth. Especially when the problem is overcrowding or gaps. At Sunshine Smiles Dentistry, dentist Roswell GA, our dentists recommend Invisalign treatment for adults and teens that are not comfortable with wearing traditional metal braces.
Some other benefits of Invisalign Braces Treament
Comfort
Invisible aligner trays are created of smooth plastic that makes wearing them more comfortable as compared to traditional metal braces. The trays are custom-made to fit the patient's mouth. And the trays do not have any sharp protrusions, edges, or pieces that may hurt the inner mouth lining.
Better Oral Hygiene
The trays are removable, which means that brushing and maintaining oral hygiene got so much easier. You can also clean out the trays properly after removing them. You don't have to worry about plaque build-up or bad breath when you have invisalign.
Fewer Dental Visits
An Invisalign treatment does not require frequent maintenance. You can comfortably shave off hours during dental visits since they do not need much maintenance. Most other teeth straightening options require frequent dental office appointments, but invisalign needs a dentist only every 6 weeks.
Invisalign allows for a more  pleasing and comfortable experience while straightening your teeth effortlessly. Visit Invisalign Dentist Roswell GA or call today at 770-998-8116 to understand how invisalign can help you better.