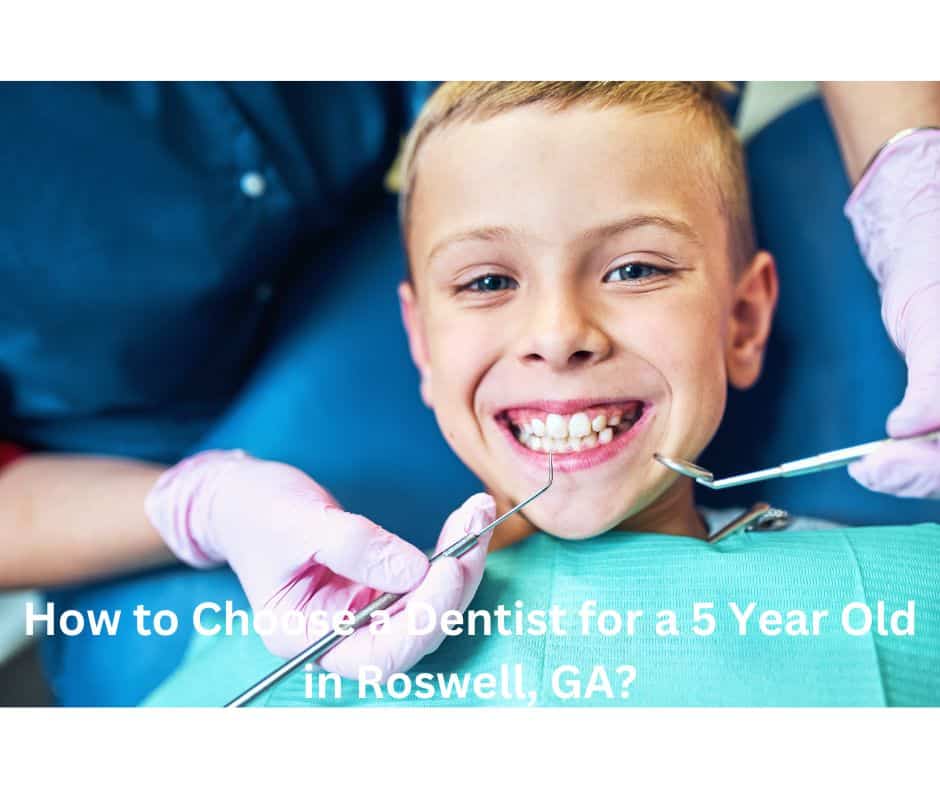 How to Choose a Dentist for a 5 Year Old in Roswell, GA
One of the most valuable gifts you can give to your five-year-old is to choose a family dentist in Roswell, GA who is qualified and equipped to provide the highest quality dental care to toddlers and young patients. Every parent wants the best in dental care for their child. How your child's teeth, gums and jawbones develop during the early formative years will have a lifelong impact on their oral health and aesthetic facial appearance.
Professional Skills and Experience
While there are outstanding pediatric dentists focusing on oral healthcare for children, you don't have to limit your options. The professional skills and hands-on experience of a dentist in providing preventive, curative and restorative dental care for children are the real important factors to consider.
A family dentist who has been delivering advanced dental care for kids for decades would have had the time and opportunity to perfect their craft and would be in a position to anticipate, identify and address virtually any kind of unique oral health concern your child may be facing.
A dentist with extensive practical experience of dealing with real-life oral care scenarios for toddlers, a proven track of success with thousands of patients, and having deeply trusted relationships with patients across generations might be a better choice than someone who is just launching a new career in pediatric dentistry.
The Art of Working with Toddlers
For children (and even for adults), the prospect of visiting the dentist's office should not be scary. You need a family dentist for your 5-year old who not only has the clinical skills to treat dental problems, but also knows the art of working with little ones. A caring and compassionate dentist will go the extra mile to make your child comfortable and provide a warm and inviting environment that your child loves.
Children are highly perceptive and they can sense the vibe of a place quite precisely. If your child feels secure and reassured because the dentist and the other staff members, such as the dental hygienist can make them feel protected and cared for, they will appreciate the friendly environment. Behavior management and compassionate care is more of an art than science, and it is one of the vital skills you should look for in a dentist for your five year old.
Remember that young kids not only have anxieties and fears when they visit a dentist, they are also at an age when they may suffer from issues such as advanced tooth decay or a severe oral injury or trauma. At this time, the child's dentist should have the capability to alleviate anxiety of the child as well as the parents, communicate reassuringly, and swiftly handle the dental emergency using their best skills. These things cannot be taught in a dental school; they are inborn and they are honed with experience.
Complete Pediatric Care under One Roof
It is best to choose a dentist for your child who offers comprehensive pediatric dentistry services under one roof. From professional dental cleanings, fillings, and preventive oral care to mouth guards and invisible braces – your dentist should be equipped to offer every type of dental care your child may need during their growing years.
Athletes as young as five years old suffer from oral injuries during the baseball and football season each year. Your toddler's dentist should be able to educate you and your child about preventive care and, if necessary, should fabricate custom mouth guards for your child's protection against facial trauma, such as a chipped tooth or a broken jaw.
If your 5-year old is struggling with pediatric bruxism (teeth grinding at night time), it can cause complications such as jaw muscle tenderness or tightness, worn-out teeth, headache, tooth sensitivity, and even earache. More often than not, reassuring and compassionate guidance from your dentist alone can help your child get rid of the stressful habit. In some cases, the dentist may provide a custom fitted night guard backed by regular dental evaluations.
According to Invisalign, the manufacturers of clear plastic aligners (braces), even with baby teeth, your child can begin their orthodontic treatment from six years of age. If your dentist detects a developing problem with your child's teeth alignment, they should have the expertise and certification to provide "Invisalign First" clear aligners, which the manufacturer recommends as "Phase 1" treatment for children in age group of 6 to 10.
Convenient dental clinic location in Roswell GA
While looking for a dentist for your five year old you want to make sure that the dental clinic is at a convenient location in Roswell, GA. Sunshine Smiles Dentistry is located close to GA-400 and downtown Roswell. It is near the Roswell Riverwalk, Canton street and other attractions.
Other Factors to Consider
To choose the right family dentist for your child, you may also consider some or all of the following factors:
Has the dentist won any recognition, awards and honors over the years, particularly in the local neighborhood and community? Consistent recognition from third party observers is an endorsement worth considering.
Does the dentist enjoy a good reputation in the virtual world in terms of online reviews and ratings and social media comments? What do other patients have to say about their treatment experience with the dentist?
How was your experience during the initial consultation with the dentist? Did you find the dentist and their team warm and welcoming? Did they engage with your 5 year old and manage to put them at ease?
Does the dentist go the extra mile to educate and guide you about preventive care for your child's oral health and hygiene? Do they communicate clearly, answer all your questions in detail, and help you make informed choices for your child?
What was your experience when you made your first phone call to the family dentist's office? Rather than coming across as 'salesy' and pushy, a great dental office will be approachable, helpful and friendly even when they don't know you.
Contact us when you want to choose a dentist for your children
Sunshine Smiles Dentistry is proud of its patient-friendly culture where children and adults alike feel completely comfortable and reassured that they are in safe hands. Dr. Suvidha Sachdeva and her team will utilize proven and effective oral care solutions to meet your child's unique dental health needs and pave the way for their excellent development of teeth, gums, and jawbone.
To schedule an appointment for your five year old at our Roswell, GA dental office, use this online appointment link or call us at (770) 998-8116.